On CBS this Morning (this morning--Nov. 10,3017) a focus group with Trump supporters revealed that every one of them redirected the propaganda line that Trump has saved the economy. They really believe that Trump's deregulation and his confidence has created the upturn in the stock market and that created the upsurge in employment, this is manifest bunk, Back in 2012 I read prediction that two million jobs would be added to the economy over the next few years, Jobs are indicative of a growing healthy economy,Let's look at some of those predictions: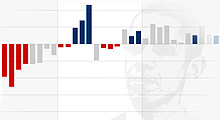 These are old articles showing the projected job increase expected before Trump even ran all accesed Nov 7 2017
"The White House Predicts 2 million
more jobs in 2012"
@CNNMoney
February 17, 2012
: 4:41 PM ET
http://money.cnn.com/2012/02/17/news/economy/obama_job_creation/index.htm
"
New forecasts from the Council of Economic Advisers estimate 2 million jobs will be added in 2012.
"
The document, which totals 446 pages, is the administration's blueprint for the economy, which outlines a plan to "recover, rebalance and rebuild." Much like Obama's recent State of the Union address, it focuses heavily on income inequality, and building an America where "everyone gets a fair shot."
One way to do that is job creation. While 1.8 million jobs were created last year, the economy still needs to add about 5.6 million jobs to get back to 2008 employment levels -- and that's without accounting for population growth.[read more]
"Occupational Employment projections to 2022"
Monthly Labor Review, Bureau Labor Statistics, Department of Labor (
Dec. 2013)
https://www.bls.gov/opub/mlr/2013/article/occupational-employment-projections-to-2022.htm

Total employment in the U.S. economy is projected to grow by 15.6 million during the 2012–2022 decade to reach 161 million; this represents a 10.8-percent employment increase. Some of the fastest projected growth will occur in the healthcare, healthcare support, construction, and personal care fields. Together, these four occupational groups are expected to account for about one-third—more than 5.3 million—of all new jobs during this period.
Total employment in the U.S. economy is projected to grow to 161 million, or 10.8 percent, over the 2012–2022 decade and add 15.6 million jobs to the 2012 employment level of 145.4 million. Of the 818 occupations for which the Bureau of Labor Statistics (BLS) produces and publishes projections data, 667 are projected to add jobs and 151 are expected to decline in employment during the 2012–2022 period. Some of the fastest projected growth will occur in the healthcare, healthcare support, construction, and personal care fields. Together, these four occupational groups are expected to account for more than 5.3 million new jobs by 2022, about one-third of the total employment growth.
Occupational projections provide information on how changes in demographics, technology, consumer preferences, and other factors are expected to affect the future labor force. Job seekers and career counselors use this information to see where the strongest or weakest growth is expected to be over the coming decade. Policymakers use the projections for long-term policy planning, and states use the data to prepare state and area projections.[read more]
"December Jobs: 1.8 Million jobs created in 2012"
MONEYWATCH
January 4, 2013, 4:27 PM
https://www.cbsnews.com/news/december-jobs-18-million-jobs-created-in-2012/



The December jobs report marked the 5th anniversary of the beginning of the "Great Recession", which makes now a good time to provide a snapshot of labor market progress. Beginning in December 2007 through December 2012, the U.S. economy shed a total of approximately 3.9 million jobs, of which the government accounted for a quarter and the private sector three-quarters. A devastating 8 million jobs were lost in 2008 and 2009, before the recovery created 4.7 million over the last three years. In other words, the job market has come a long way from the dark days of the Great Recession, but has a lot more ground to cover
For 2013, economists predict that average monthly job growth should increase only slightly to 165,000 and the annual average unemployment rate will be 7.7 percent. Expectations are muted due to the second phase of the so-called "fiscal cliff" negotiations, which will focus on focus on a reduction in government spending in order to address the nation's mushrooming $16 trillion debt burden.




It's important to underscore that when the government spends fewer dollars, it creates a negative impact on economic growth.

J.P. Morgan chief U.S. economist Michael Feroli

expects that fiscal cliff issues "will probably hold things back awhile." The extent of the damage depends entirely on the amount of reduction and the pace at which it will occur. Throughout the fiscal cliff debate, critics of tax increases and spending cuts worried that the dual effect would throw the country into another recession.[

read more

]
I get that the title of the last one refers to seasonal job but the quotes make clear not all the forcasts are seasonal,
According to these 2013 sources the economic condition we see today could easily be accounted for by the forecasts made in 2013 or even 2012. Long before Trump was running, Clearly the aritcle links at least a third of it to Obama;s policies.
Here i a 2017 article from a conservative source arguing that the big upturn is not due to Trump. Some aspects of it are affected by Trump but for the most part he has not had time to have a a major effect,
"
The Trump Stockmarket Ralley: Don't Thank Trump"
MONEYWATCH
November 10, 2017,
6:00 AM
https://www.cbsnews.com/news/trump-stock-market-rally-dont-thank-trump/
When Donald Trump won the White House 12 months ago, the stock market took off. And the president often takes credit for that. In a recent tweet, he attributed the ongoing rally to "great confidence" in his administration's policies.




The truth, though, is that the president -- indeed, any president -- has only limited powers to affect the market, which is driven more by corporate earnings and economic forces.




"In the first few months" of Mr. Trump's presidency, said Garrett Oakley, a financial planner with online financial adviser Betterment, investors were excited about Mr. Trump's ambitious plans for tax cuts and huge public works projects. "But that became priced in," meaning the thrill faded after nothing happened and investors turned elsewhere for inspiration.




The rally predates the Trump presidency

Indeed, with a few hiccups, the market has been on an ascending trajectory since March 2009, at the outset of Barack Obama's administration, and the so-called "Trump bump" is the just latest leg upward. Stock valuations, as measured by the 12-month forward price-earnings multiple, have been "roughly constant for the past two years," said Nicholas Atkeson, a founding principal of Delta Asset Management.




Oddly enough, Mr. Trump's lack of legislative success may have helped the market, said Jeffrey Sherman, deputy chief investment officer at DoubleLine Capital. In an interview with Yahoo Finance, he noted: "Markets don't like change. And for that I'll give the president credit that he really hasn't changed much thus far, at least when it comes to financial and fiscal policy."

[read more]