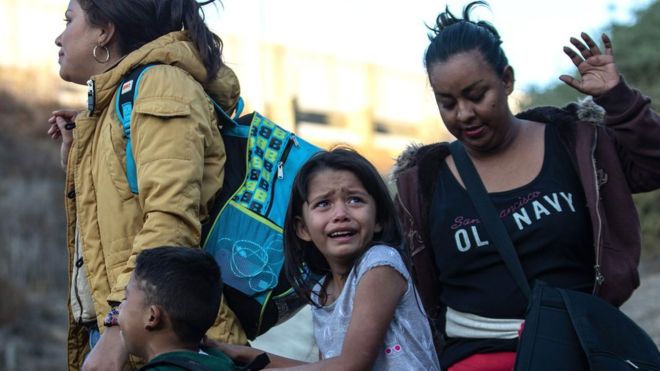 An eight-year-old boy from Guatemala has died in US government custody, officials say, the second migrant child to die in US detention this month.
The border agency says the boy died on Monday night hours after showing signs of illness. A Texas congressman named him as Felipe Alónzo-Gomez.
The child was detained with his father on 18 December after illegally crossing the US-Mexico border.
A seven-year-old girl died earlier this month just hours after being detained.
Jakelin Caal, also from Guatemala, developed a high fever and died of liver failure. Her funeral was held in her village on Tuesday.
Many say they are fleeing persecution, poverty and violence in their home countries and plan to seek asylum in the US.
What do we know about the latest case?
In a new, lengthy statement, the US Customs and Border Protection (CBP) said the boy, whose identity has not been officially confirmed, died at 23:48 local time(06:48 GMT) on 24 December. The cause of death is still unknown.
After being detained in El Paso, Texas, he and his father were taken to a local processing centre, where they spent two days. They were then sent to El Paso Border Patrol Station, where they were held for another two days.
On 22 December, they were transferred to Alamogordo Border Patrol Station, in neighbouring New Mexico.
On Monday morning, an agent noticed that the boy "was coughing and appeared to have glossy eyes". He was taken with his father to a hospital where he was diagnosed with a common cold and given Tylenol (paracetamol).
Pamela Wheelock
Call senator Johnson. Head of the senate committee for Homeland Security and has oversight . He may not care, but call because you DO.
202-224-5323
Flood his phone.